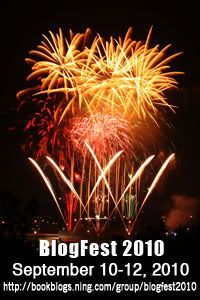 Welcome to BlogFest!
Thanks for stopping by! I'm so excited! I hope you are too.
To recap:
What is BlogFest?
BlogFest is a blog run of sorts. A list of participating blogs can be found
HERE
. Each blog is offering a fantastic giveaway for readers to enter. Each blog will link to another, pulling readers through the fantastic party we'll have set up for them!
This is a weekend-long event starting at 12am EST Friday, September 10th and ending at 11:59 pm EST Sunday, September 12th. There are 258 blogs confirmed that will be partipating! Each blog is having their own unique contest/giveaway. Wow! Can you imagine the amount of prizes that are going to be given away? Thank goodness we have the entire weekend to visit each and every blog. So grab some water, do a little stretching and get ready to have some fun!
Again, for a full list of blogs that are participating, visit
A Journey Of Books.
Not only will you have access to the full list of blog participants but you can also track your progress.
**Anyone using the tracking site at
A Journey of Books
will be entered in their massive giveaway (that means you too blog owners!) Participants will have to use an email address to register to use the site, but this information is only on
A Journey of Books'
server and will be deleted after the giveaway winner has been notified.
Link to the tracking site: http://ajourneyofbooks.com/blogfest
Let's get down to business! The prizes!
---
There are 4 prize packs (you guys are so lucky!) You can enter to win all 4 prizes or just the one that tickles your fancy. Each prize pack will have their separate entry form.
Contest rules:
You must be 18 and over to enter unless otherwise stated

You must be a follower of my blog

You can enter to win 1 of the prize packs or all 4. It's up to you.

Leaving comments will not count as an entry. Please complete the contest form!
You can do all the extra entries you want but it's not going to increase your chances of winning. I'm keeping this as simple as possible. Fill out the form.
One entry per person, per prize pack. Multiple entries will be deleted.

All contests are for US residents unless otherwise stated

A winner will be chosen using random.org

There will be 4 drawings - 1 drawing for each prize pack = 4 winners

I will contact the winner via email

The winners will be posted on my blog by Tuesday, September 14th
The prize packs will be mailed to the winners Saturday, September 18th (because of work, I won't be able to get to the post office during the week)

If you have any questions, feel free to shoot me an email (lovetoreadforfun@gmail.com)

Have fun! And Good Luck!
---
Prize Pack #1:
The Demonica Series by Larissa Ione (all 5 books) and Demonica swag!
**This is open to US Residents only. Must be 18 and up to enter. Click HERE to enter.**
---
Prize Pack #2:
Book Lover/Blogger Swag
-Cute Pink Bookworm Tote Bag
-English Brainstorming Poster Journal
-Boys In Books Are Just Better mini Button
- Post-It notes and flags
-4 pack of pens
-2 Hide a cover (Smut and This is not a trashy Vampire Romance Novel)
**This is open to US and Canada Residents only. Click

HERE

to enter.**
---
Prize Pack #3:
Box of books
-First Drop of Crimson by Jeaniene Frost
-Eternal Kiss of Darkness by Jeaniene Frost
-Nocturnal by Jacquelyn Frank, Kate Douglas
-Lover Avenged by J.R. Ward
-Lover Mine by J.R. Ward (PB, UK cover)
-Demon Princess: Reign Check by Michelle Rowen
-Dead to the World by Charlaine Harris
**This is open to US Residents only. Must be 18 and up to enter. Click HERE to enter.**
---
Prize pack #4:
$20 Book Depository "gift card"
Open to anywhere the Book Depository ships.
Click HERE to enter.
---